Saving Wildlife Everyday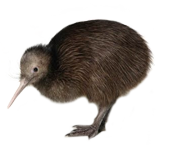 Saving kiwi and other animals from the brink of extinction is just one part of what Kerri Morgan does at the New Zealand Wildlife Health Centre.
Her team is a world-expert in oil spills and Kerri has been one of the leaders of the response to the oil spill from the container ship Rena.
That has been internationally recognised.
About wildlife veterinary science
It may surprise you to know, that the idea of caring for animals is a relatively modern concept – it was only 125 years ago that the job of a vet was even created.
New Zealand got its own vet school back in 1962, when the Bachelor of Veterinary Science was established at Massey University.
Specific care for wildlife came even later, pushed by a global movement to look more closely at the relationship between human and animal health (an initiative called 'One World, One Health'). The New Zealand Wildlife Health Centre at Massey opened in 2001. It was the first dedicated wildlife facility in New Zealand and is the main one for treating injured native wildlife (predominantly birds).
When the hospital opened it was treating around 50 animals a year. Today it treats between 250 and 300, and it does all post-mortems on threatened species for DoC.
If you are interested in working with animals there are heaps of interesting jobs. You could work towards being a wildlife vet like Kerri, have your own veterinary practice, manage a farm, work with cats and dogs, you could be a nurse, look into new ways of improving animal health – and there are heaps more options.
Why Massey?
When you think of a wildlife hospital, you probably imagine a labryinth of corridors with those plastic swingy doors and the slightly nauseous whiff of antiseptic.
No plastic swingy doors, and only a handful of rooms, and you're there.  Massey's Wildlife Centre is globally renowned, especially for its work around endangered New Zealand species. The survival rate of injured kiwi brought into the centre has increased from 25% to 80% since Kerri Morgan herself started at the Centre.
If you want to follow in Kerri's footsteps, and join the work of the Wildlife Hospital, you'll need to study Veterinary Science at Massey University's veterinary school. The Bachelor of Veterinary Science (BVSc) is a five-year degree that will give you the skills and knowledge to become a vet in New Zealand, or work anywhere around the world.
You'll get your first taste of dealing with wildlife in your final year. That's when you'll do a rotation through the New Zealand Wildlife Centre, New Zealand's only dedicated wildlife hospital. You'll learn from some of the world's experts in veterinary science.
There are plans for a huge refurbishment of the Wildlife Centre in 2013, so you'll get to work in what will be one of the best, most-modern facilities in the world.
If you'd like to be a resident, you'll need to get two or three years experience as a regular vet after finishing your degree before you can apply.  To specialise in wildlife, you'll need to do a postgraduate qualification, and look into some research related to your field of interest.
As well as becoming a vet, you could consider becoming a pathologist and specialising in the diagnosis of diseases. To do this you'll need to do your BVSc, and then go on to do a residency in New Zealand or overseas, and sit the American Board exams.
Or another option is to do a Bachelor of Science and specialise in something that has implications for working with wildlife. For instance Massey has a dedicated person in charge of the oil spill response programme. You could look at doing a research project that focuses on marine science to give yourself some expertise in that area.
You'll need to work hard and be dedicated to your vision – veterinary science is very competitive, and the area of wildlife even more so. But it'll be well worth it – it's a really rewarding career.
Find out more about veterinary science
Get started!
If you want to follow in Kerri's footsteps or just want to learn more about what she does all day, check out our Area of Interest page for Veterinary Science.
There you'll learn more relating to what Veterinary Science is really all about, what kinds of careers you can get in that field, and how Massey University can help you get started down that path – just like Kerri.